The most attractive and pleasant to see, the area of Pakistan is Chitral. The peaks of the mountains seem like they are touching the sky. Chitral is situated on River Chitral which is present in the northern areas of Khyber Pakhtunkhwa. Chitral is the Capital if District Chitral. In the valleys of Chitral, tribes are living which have their cultural values and traditions. The people of Chitral are very hospitable and lively. Polo is the favorite play of Chitral's peoples. Every village has its own Polo team. The way of living over here is quite ancient. 
Chitral Gol National Park
Chitral Gol National Park is the famous place of Chitral. It is situated in the Hindukush Mountains. It covers the area of 8000 hectors. It is a very beautiful park in Pakistan. In Chitral Gol, Pakistan's national flower JASMINE and Pakistan's national animal PHEASANT are found.
Famous Animal of Chitral Gol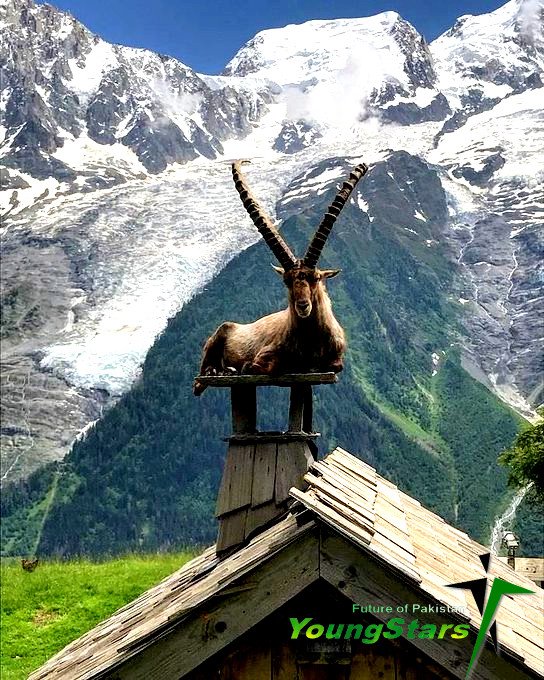 The most famous animal of Chitral is Markhor. It's like a big wild goat and the national animal of Pakistan. Its height is about 65 to 110 cm tall from the shoulder. Its weight is between 40 and 110 kg.
Pakistan's National Tree, Deodar
Chitral has a long winter season and short and pleasant summer season. Deodar trees are very common there. The roots of the trees are present on the mountain instead of under the ground because this area consists of mountains. Their height is 25 meters and to get this height they spend many hundred years. Many trees are a thousand years old. Deodar is the national tree of Pakistan.
Visiting Places at Chitral
Chitral is a beautiful place to visit. Especially in the summer, a variety of colors are enjoyable there. Tirich Mir is the highest mountain in the Hindu Kush mountains. It has a very beautiful view. Chitral Museum, the museum is divided portions. 1st is Ethnological Gallery and 2nd is Archaeology and Kalash Gallery. In the 1st portion of old instruments, jewelry, furniture is preserved while in the 2nd portion things which show the culture of Kalash is kept. These things are representing their religious values too. Shahi Masjid, this Masjid is a splendid view of architecture. White marble is used in its construction and it is a very beautiful mosque. Shahi Qila, it is situated near Shahi Masjid. It seems a majestic place. Gram Chashma, it is so beautiful spot. Tourists came to enjoy its pleasant view and its water which is hot in spring. Barmoghlasht, it's a beautiful summer resort in Chitral. Visitors enjoy this resort in both seasons. Ayun valley, situated beside Chitral River. It's a green valley in the mountains. Shandur Polo Ground, it's a very famous and highest polo ground. It's at a small distance from Chitral Valley. Many tourists and foreigners came here to enjoy polo. Koghazi and Goleen, it's a marvelous place so everyone who visits Chitral must go here. It's a beautiful place containing grassy land, tall fruity trees, greenery, waterfalls, and cold-water streams. Chitral has a wonderful valley which is Kalash Valley.
Kalash Valley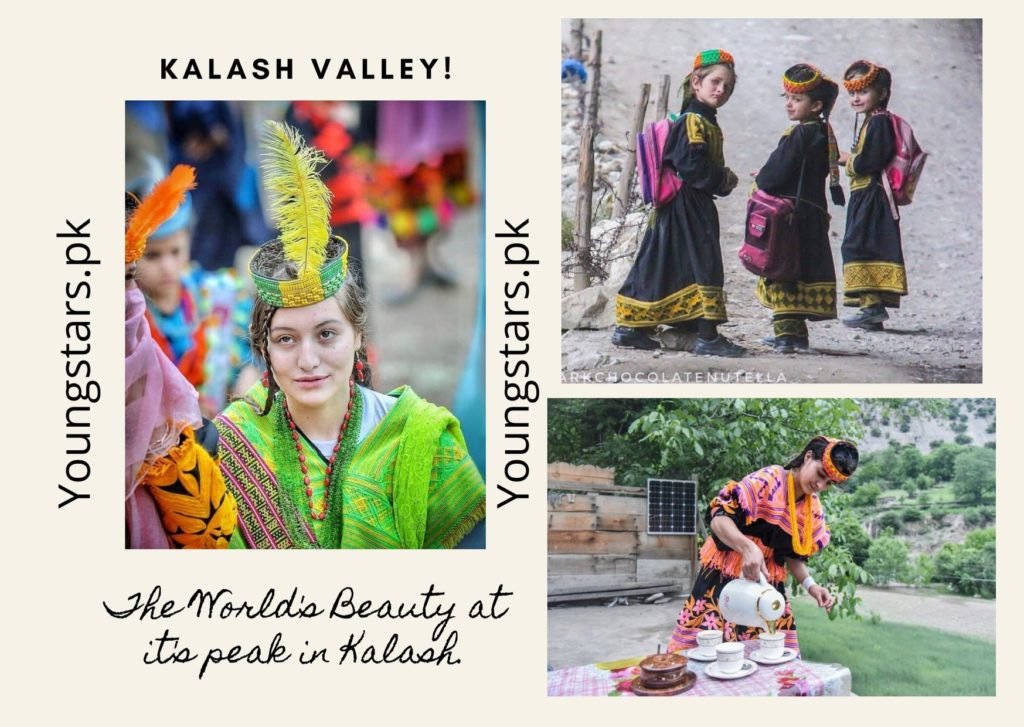 Kalash valley is a very beautiful valley of Chitral. It is worth seeing because of the rituals, cultures and traditions of the people here. Their culture is known as Kalash Culture. It is very beautiful because of the mountains, water passing through it. People of Kalash are known as Kalasha or Kalash or Wai or Waigali. The Kalasha's are non-Muslims mostly. They don't use newspapers, telephones, etc. no doctors are there. In Kalash Valley population of Muslims are high.
Visit Kalash Valley
If someone is interested to visit Kalash Valley, he should go from May to September as in other months there is heavy snow. No passages to go through and there are no festivals in other months.
Valley's of Kalash
Bumboret Valley
Rumbur Valley
Birir Valley
Bumboret Valley
It is the most advanced and developed valley of Kalash. One health unit is present over here but no doctor is available. The strength of Muslims is high in this valley. The people of this valley earn by giving their guestrooms to the tourists. The people of Bumboret Valley are very nice and hospitable. The villages which are famous in this valley are Krakal, Brun, and Anizh.
Rumber Valley
Here the strength of Muslims is low as compared to Bumboret Valley. One pharmacy is present in this valley. This is not a developed valley but better than Birir.
Birir Valley
This is a very old tradition valley and their culture is very old. One pharmacy is also present in this valley. People of this valley are also non-Muslims.
Way of living the People of Kalash
`They are spending their lives in very much ancient times. They send their ladies away during mensuration and childbirth. The people of Kalash celebrate the deaths of their people. They don't cry or mourn on the death of their loved ones. They dance around the dead bodies of their dear ones. They celebrate this occasion with the sacrifice of goats about 30 to 40 goats. In the case of death in a poor family, they became poorer as they have to fulfill the requirements of that occasion. There is one basic health unit in one valley while in other valleys medicines are available but no doctor is there. Their girls are free to make decisions about their marriages. There is no need to get permission from the elders. Qazi makes marriages. One goat is sacrificed and the blood of goat is put on the ears of the bride and groom. Some foreigners also get marry to Kalash girls and take them away from here like Greeks.
Kalash Valley Festivals
Kalash festivals is a dancing and colorful event. They represent their culture. This festival is celebrated by Kalash people. They not only drink but also worship their God. They even make sacrifices. The young boys and girls choose their future wives and husbands during this festival. The women wear exotic dresses and their traditional caps on this occasion Kalash festival is celebrated three times in a year
SPRING (CHILAM JOSHI FESTIVAL)
SUMMER (UCHAL FESTIVAL)
WINTER (CHOIMUS FESTIVAL)
Savilakehari Festival
During this festival boys and girls wear colorful dresses. They dance and praise each other. Kalash girls wear boys' dresses and boys put on girls' dresses. They express their feeling to each other and announces their marriages. Men, women, and children make toys and give these toys as gifts to others.
Kalash is unique due to its traditions, festivals, beautiful views. But with time Kalash people are embracing Islam due to many problems which they face.
Do you know? Pakistani is going to host World Tourism Forum Islamabad 2021.