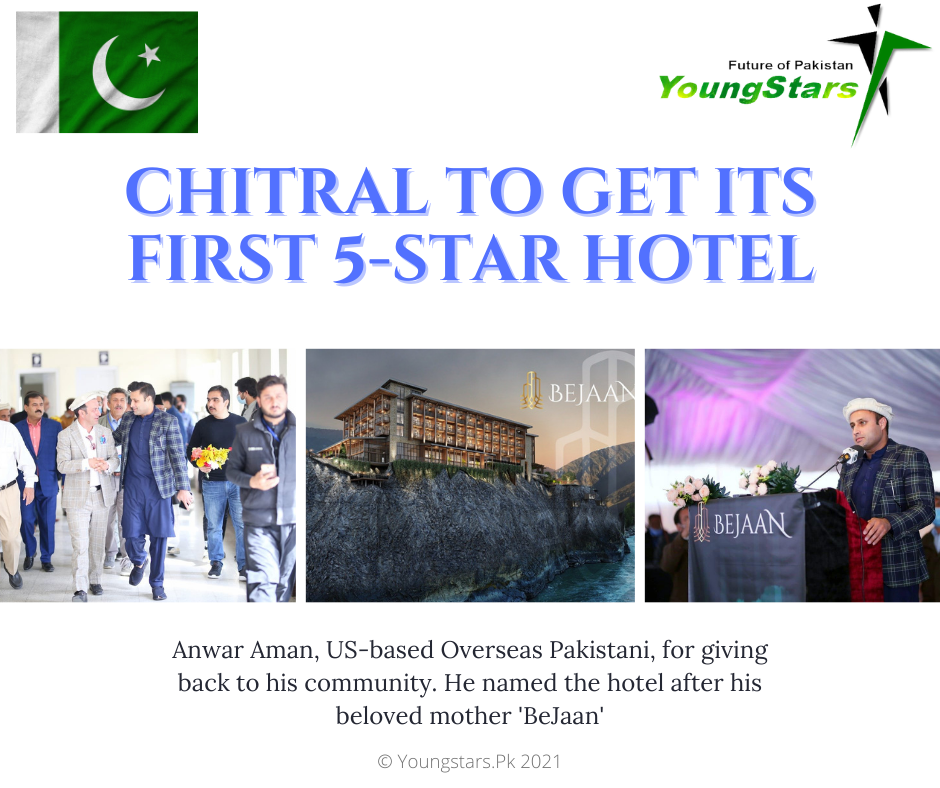 Chitral to Get its First 5-Star Hotel
Chairman of National Tourism Coordination Board (NTCB), Syed Zulfiqar Bukhari, initiated the development work of the first five-star hotel in Chitral. The name of the hotel is "BeJaan".
The five-star hotel will provide state of the art accommodation and dining facilities to tourists. Furthermore, it will also create employment opportunities for local residents.
Anwar Aman is the sole investor in this project. He is an overseas Pakistani. The sole investor named the hotel after his mother 'BeJaan. Anwar Aman announced around Rs5 billion to invest in the tourism sector in Pakistan.
The hotel is being built under a public-private partnership and will cost 30 million dollars.
The hotel will contain 80 bedrooms, 2 restaurants, and a hall with a 500-person seating capacity.
Zulfi Bukhari laid the foundation for a five-star hotel in Chitral
Syed Zulfiqar Abbas Bukhari is the chairman of the National Tourism Coordination Board (NTCB). He laid the foundation stone of a five-star hotel in Chitral to ensure the provision of quality accommodation and food facilities to visitors.
While Addressing the people at the groundbreaking ceremony, he said the facility is set up in collaboration with the private sector. "Concerted efforts are made to encourage the private sector to invest in the promotion of the tourism sector," said Zulfikar Bukhari.
He also holds the portfolio of Prime Minister's Special Assistant on Overseas Pakistanis and Human Resource Development. Rather, he thanked the people of Pakistan for their contribution to national development.
NTCB chairman Zulfkar Bukhari said that his government had a huge plan to promote the country as a customized brand across the world.
The chairman of NTCB Zulfikar Bukhari said the Pakistan Tourism Development Corporation (PTDC) is the premier tourism body. It geared up to launch all the initiatives that were delayed due to the closure of the sector in the wake of coronavirus.
Development of Brand Pakistan
He said that PTDC also developed 'Brand Pakistan' with the help of international experts. it will soon be launched to introduce it as a worldwide tourism brand.
Brand Pakistan mainly consists of three main components.
Brand identity development,
musical score creation,
interactive e-portal.
e-Portal
He said we will launch a complete e-portal soon.it will provide world-class exposure to Pakistan's tourist attractions through one click. This portal will include a user-friendly interface to interact with the tourist. Rather, it will also provide people online connectivity to view Pakistan's tourist sites through virtual galleries, videos, and documentaries, and avail the various available services."
National Tourism Strategy
Zulfikar Bukhari told the Pakistani government had also created the National Tourism Strategy (2020-2030), which is in a launching process.
The aim was to develop a coherent framework for the tourism sector, with all stakeholders on board. It will focus on four key areas, including good governance, demand, and supply of tourism, job creation, and enabling growth.
World Tourism Forum
 Pakistan is preparing to host the 'World Tourism Forum' next year to show the country's tourism potential, attract investment, and build Pakistan into an international brand, Zulfikar Bukhari said. Almost 1,000 foreign visitors, including investors, companies, tourists, and holidaymakers will participate.
He also told that the country was also preparing to host the 'World Tourism Forum' next year to show the potential of tourism in the country. It will attract investment and build an international brand for Pakistan. Many foreign visitors, investors, companies, tourists, and holidaymakers, will attend.
Ready to experience the next standard in luxury? We know you are thinking about it. Indulge your every desire on your impending break. Now there is no reason to delay a getaway to Chitral further. the visitors can join the multitudes of vacationers who have made Chitral so fashionable in the last few seasons. Moreover, they can expect excellent customer service from these hotels. They will get an outstanding getaway.
So, Book one of Expedia's luxurious 5-star hotels in Chitral and get ready to enjoy it. You will enjoy your time at one of these 5-star hotels. Spa treatments, delicious meals, and charming guest service are all waiting for you. You will definitely find the accommodation you need. You may also be looking forward to an outstanding experience and amazing customer care. So get ready to kick back and indulge. these hotels can astonish you with their facilities and luxuries.
Make Your Escape
When you book your next vacation, Chitral 5 star hotels will be your first priority. If you've been thinking about a vacation set here, then go ahead and book it. Don't put off your dream vacation any longer. Choose one of Chitral 5-star hotels today and enjoy a good time tomorrow.
A little bit of luxury makes any journey more memorable. But a lot of luxury makes for a journey, you'll be blowhard about for the rest and Wotif's Chitral five-star hotels can get the bragging started. From the arrival moment, you'll get the best treatment from start to end. With its personalized services throughout, plush rooms with stylish furniture, and a host of great dining options, you'll be hard-pressed to find a favorite aspect of your entire stay.
Whether it's a peaceful resort you want or the finest in downtown luxury, five-star hotels in Chitral deliver every type of deal according to your budget. Inside the hotel, you'll find freshly bloomed flowers, original artwork, the chicest decor. not only these things you will also see state-of-the-art fitness centers, upscale cafés, and cocktail lounges. Moreover, you will find customer service so polished and attentive that you'll Google ways to smuggle an attendant back home with you. Next, go out to the poolside or unwind with a leisurely spa treatment and foot massage.
For booking Wotif's online system makes it easy to get the hottest deals on five-star accommodation in Chitral. All you need to do is pick one hotel, book yourself, and get here. Then you can spend your time in the best way by enjoying the aroma of name brand toiletries and fluffy, just-laundered towels.